HIGHLIGHTS
About Badda (Middle & South)
Formed in 1998 from parts of both Cantonment Thana and Gulshan Thana, Badda is one of the fastest-growing neighborhoods in Dhaka. Of the greater Badda area, Middle & South Badda consist of Middle Badda, South Badda, Merul Badda, Tekpara, Merul, Sonakatra, Baithkali, the DIT Project, East Merul Badda, Ananda Nagar, and Aftabnagar. The area is a bustling neighborhood with many offices mostly located on Pragati Sarani. There are also numerous residential development projects ongoing in the area, including the DIT Project and Aftabnagar. The area is also favorably located right next to Hatirjheel, allowing for easy access to not only Gulshan and Niketan, but also distant areas like Kawran Bazar and Banglamotor in the central parts of Dhaka.
NEIGHBOURHOOD
Community
South Badda is a vibrant area with lively streets near the main road and a more serene atmosphere in the interior, especially in places like Aftabnagar. The area is mostly residential, and housing is extremely affordable in the area. It is also in close proximity to financial hubs such as Gulshan, Baridhara, and Kawran Bazar, making it an attractive area to live in for office goers. Hatirjheel offers great connectivity to the residents of the area, making life in Middle & South Badda a lot easier. Residential property in the area is still affordable, but increasing in value. This makes it a great investment. Aftabnagar is the premier residential area in Middle & South Badda, and the neighborhood is very different from most other neighborhoods in Dhaka. It is a very peaceful area, with wide roads and well-planned blocks. This makes it the perfect place to escape the hectic and fast-paced life of Dhaka city.
Properties in Badda (Middle & South)
Commercial activity in the area is mostly centered around Pragati Sarani and the Gulshan-Badda Link road, which are the two major roads traversing through the area. Many big corporations have offices in Pragati Sarani. There are markets on both Pragati Sarani and Gulshan Badda Link Road, as well as numerous banks, restaurants, showrooms, and brand outlets. The inner parts are mostly residential though, with Middle, South, and Merul Badda being quite developed. Numerous housing projects are also located in the area. The largest of these projects is Aftabnagar - a quiet and peaceful planned neighborhood. It is like an oasis of calm and quiet in the middle of a bustling metropolis. As a result, property is in high demand here as many people are looking for apartments in Aftabnagar. The area also has a morning haat, where you can buy fresh produce early in the morning.
Transportation
When it comes to transportation, Middle & South Badda are some of the best-connected neighborhoods in Dhaka. Firstly, they have two roads serving the areas, namely Pragati Sarani and the Gulshan-Badda Link Road. And there are numerous bus services operating on routes going to and from all corners of Dhaka. For internal travel through the streets and alleys inside Middle & South Badda, there's no better way than using the rickshaw. To top it all off, Middle & South Badda have access to Hatirjheel, which results in access to many parts of Central Dhaka, as well as Niketan and Gulshan. Hatirjheel also has its own modes of public transport, namely the Hatirjheel Circular Bus Service and the Hatirjheel Water Taxi. These services are very quick, readily available, and cut down the time taken to travel to certain destinations. Middle & South Badda will also be served by MRT Line-1 (Airport Rail Link) of the Dhaka Metro project.
Educational Institutions
In the area, you will find numerous top tier educational institutions. The most prestigious of these institutions is East West University, located in Aftabnagar. Canadian University of Bangladesh also has a campus in South Badda. One of the country's best private universities, BRAC University, is also building its new campus in Merul Badda. There are also numerous schools in the area, including Badda High School, and the Baridhara Branch of Islamic International School & College.
Medical Institutions
Middle & South Badda has multiple healthcare facilities that serve most medical needs and emergencies of its residents. There is a branch of Labaid diagnostic in Merul Badda. You will also find Lions Eye Hospital in Middle Badda, AIMS Hospital in Merul Badda, and Union Specialized Hospital in Aftabnagar. Plus, there are numerous pharmacies across all the different areas of Middle & South Badda.
Religious Institutions
Residents of Middle & South Badda will face no problems finding places of worship. There are numerous mosques located in the area, the most remarkable of which is the Baitul Rahman Jame Masjid, which is a beautiful mosque located inside the DIT Project Area. Followers of the Hindu religion will find a temple in Merul Badda, the Merul Badda Durga Mondir. There's also a Buddhist Monastery in Merul Badda. Those of the Christian faith will not find any churches in the area, but there are churches nearby in North Badda, including the Baridhara Baptist Church.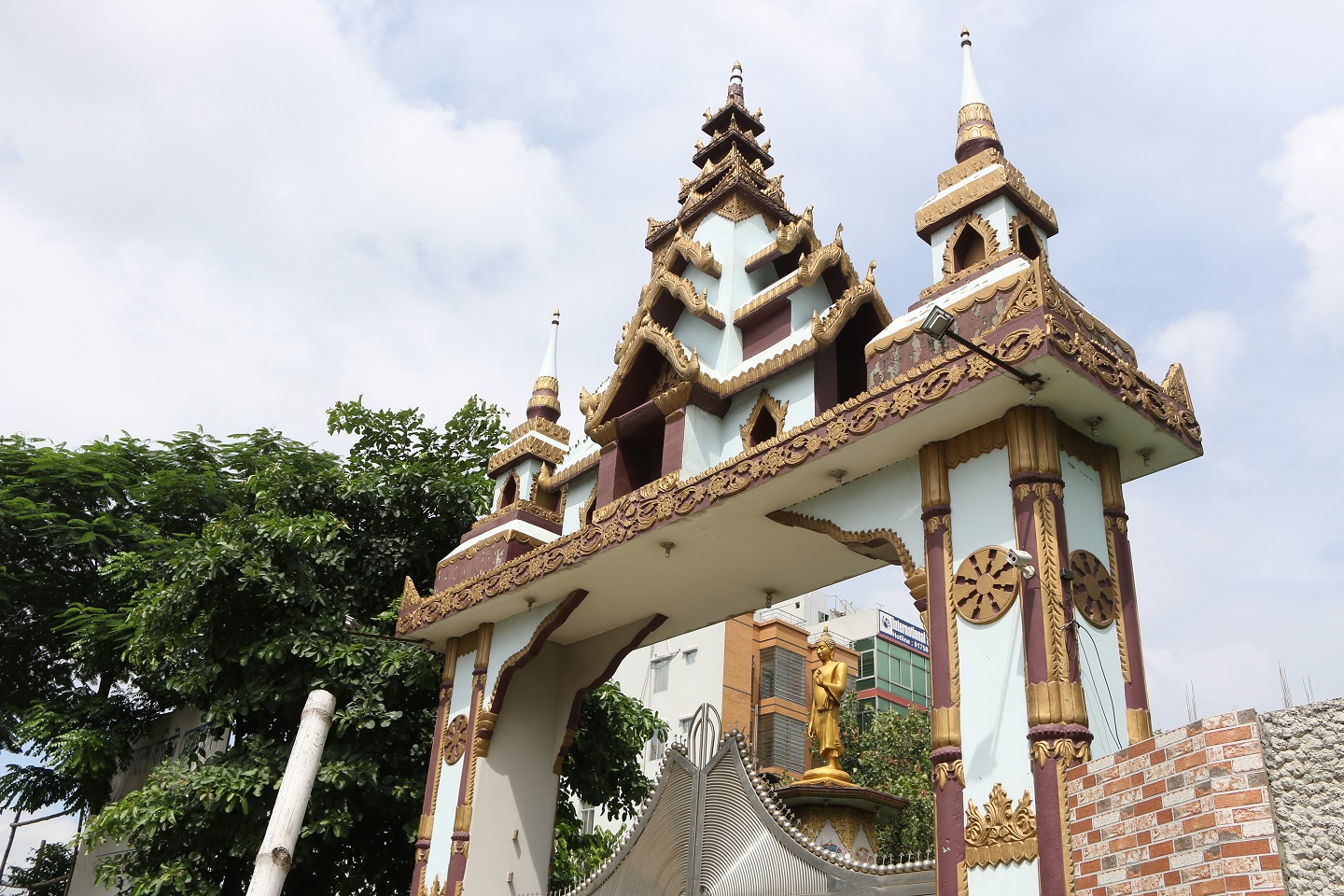 Nearby Areas
Rampura and Banasree are two areas located right next to Middle & South Badda. These areas can be accessed via the Rampura Bridge, which connects Pragati Sarani to DIT Road, the main road in Rampura. Gulshan and Mohakhali are also easily accessible by using the Gulshan-Badda Link Road. Niketan and Tejgaon, as well as further areas in Central Dhaka, can be reached using Hatirjheel. Going north via Pragati Sarani will lead you to areas such as Baridhara, Bashundhara, and Uttara.
LIFESTYLE
Food & Restaurants
There is no shortage of good food in Middle & South Badda. Starting from street side food carts serving snacks to scrumptious Biryani and Tehari, the area has it all. Noyon Biryani House, located on the Gulshan-Badda Link Road, serves some of the best Tehari in Dhaka. Its great taste has seen people come from far and wide to visit the restaurant. There is also a vibrant street food scene in the banks of Hatirjheel near Gudaraghat as well as in Aftabnagar. For those looking for a more refined eating experience, there are numerous restaurants in the area that serve fast food and Thai-Chinese cuisine.
Parks & Recreation
Hatirjheel's primary function is to serve as a road that connects far-flung areas of Dhaka, but it is also one of the most beautiful roads in Dhaka. In many ways, it is a pedestrian's paradise, with wide sidewalks, beautiful shrubbery, and proper seating arrangements. Walking on the sidewalks can feel like a literal walk in the park, with many people going to Hatirjheel for early morning jogs. The Hatirjheel Water Taxi service is used by many office goers, but it is also a scenic ride, with many passengers traveling just to experience the scenic sights of Hatirjheel lake. In Aftabnagar, there's a huge lake. People go there to visit and experience its rustic charm.
Shopping
The only large shopping complex in Middle & South Badda is Lutfun Shopping Complex in Middle Badda. But in nearby areas, there are numerous destinations that can serve the shopping needs of residents. The closest is Police Plaza in Gulshan, which is only a short drive away if you take the Hatirjheel Route to Gulshan. It has high-end fashion outlets, cosmetic shops, electronic stores, and a large food court. For grocery shopping, there's Madhya Badda Kacha Bazar. Aftabnagar also has a morning market where fresh fruits and vegetables are sold every day.