HIGHLIGHTS
About Basabo
Basabo is a densely populated area that is renowned for its affordable housing options. It falls under the Sabujbagh thana, which spans an area of 6.62 square kilometers. The area has been segregated into four major zones, North Basabo, East Basabo, Middle Basabo and South Basabo. Despite being a crowded residential area, Basabo lies close to one of Dhaka city's major commercial zones, Motijheel. The entire area is well organized and offers sustainable housing facilities for its residents. Basabo emerged as a heavily inhabited place in the late 20th century and evolved into a dynamic residency, through establishments of strong communication systems, restaurants, schools and medical solutions.
NEIGHBOURHOOD
Community
Basabo entails all sorts of convenience provisions for residents, actively nurtures extracurricular activities among children, and happens to be an iconic accomodation place for individuals who lie in the middle-class stratum. The presence of a few renowned fields has transformed the place into a bustling area. Basabo being a highly-populated area, there is huge room for residential development. Projects like Navana Silver Dale and Chayabithi Eastern Housing Project successfully left their mark by raising apartments in Basabo over the years, offering people a unique form of accommodation in the locality. As a result, new developers are keen to work on innovative projects in the area.
Properties in Basabo
Basabo is currently perceived as a developing zone, with untapped potential yet to be fully utilized. The area is mostly residential oriented, with major corporations present in the nearby Motijheel area. Recent apartments in Basabo are mostly built by prominent developers, where you can look for 700 to 1600 square feet apartments within a reasonable budget frame. Residents usually prefer smaller apartments within 1000 square feet. TechVen Properties Ltd. has the TechVen Matin Heights in Basabo which offers great living conditions as well. Flat rents are offered in the affordable range, catering to the ability of those who lie in the middle-class.
Basabo is situated close to one of Dhaka city's major commercial hubs, Motijheel, which enhances the development prospects of commercial activity in Basabo. The presence of a few state-owned and private commercial banks like Prime Bank Limited, Brac Bank Limited and Agrani Bank Limited, enables the residents of the area to avail and conduct banking operations with greater ease. Apart from banks, organizations like Youth for Bangladesh, Legal Forum Bangladesh, and Basic Builders opened their office branches in the locale. Moreover, numerous fast-food chains and shopping malls have been developing in Basabo, shaping it into a great place for residing.
Transportation
The Dharmarajika Buddhist Monastery acts as a major hub of transportation in Basabo, widely connecting the area to places like Motijheel, Gulistan, South Banasree, Sayedabad, Khilgaon, Rampura and several others. Traffic conditions improved right after the inauguration of the Khilgaon flyover. Basabo is a vast area and its internal communication system is extremely strong due to the presence of rickshaws and tempu services. The tempu stand aids to a great extent in terms of linking Basabo to areas like Goran and Mugda. Also, recent road repairs have drastically improved internal road conditions, opposing a long-standing impression of the area having bad roads to traverse. Overall, the transportation convenience of Basabo leans more towards the south part of Dhaka city.
Educational Institutions
Schools are a crucial component of a developed residential area and Basabo has a few renowned schools within its periphery. Schools like Motijheel Model School, Kadamtala School, Basabo Girl's High School, Dip Shikha Pre Cadet School and College, Sobujbagh Government College, and Imperial School have been the focal point of attention for the parents of school and college going kids. Basabo consists of several kindergarten schools and colleges, which offer quality education in both the Bengali and English curriculums.
Medical Institutions
There are quite a few medical centers in Basabo, located within its vicinity. Islami Bank Hospital opened a medical center, with several other new clinics mushrooming all over the area. There are many well-equipped hospitals like VSS Eye Hospital, Central Basabo General Hospital, Basabo Diabetic Hospital, and Center for Health along with medical centers like Basic Diagnostic and Consultation Centre, MS Medical Center, and Sheba Medical Center.
Parks & Recreation
Residents of Basabo have access to two very renowned fields, 'Balur Maath' and 'Khelar Maath/Basabo Maath'. Balur Maath was initially just an open space that was later renovated and beautified. A tiny pond was created inside the field along with other recreational features. Throughout a year, numerous extracurricular events are organized here, encouraging the youth to actively participate in creative pursuits. Apart from sports activities, several political and cultural events take place occasionally. Most importantly, these outdoor activities and fields let people rejuvenate while being away from all the hustle and bustle of life.
Historical Sites
The Dharmarajika Buddhist Monastery is a major landmark of Basabo. This is not just an amazing place for sightseeing but is also a crucial part of our culture. It happens to be the first Buddhist monastery built in Dhaka after the India partition in 1947. This monastery is prominent for its active participation in social causes, which are helping people living in dire conditions. Numerous visitors are drawn towards this site and never fail to miss the view while passing through Basabo.
Religious Institutions
Basabo embraces the flavor of several religions due to the establishments of various mosques, mandirs and monasteries. The Dharmarajika Buddhist Monastery is close to the Mugda side, whereas the mosques are scattered all over the area. There are plenty of mosques built in Basabo. Residents observe all forms of festivals and religious events with the same spirit and equality among themselves.
Nearby Areas
Basabo turns out to be a convenient location for individuals who commute mostly to the south side of Dhaka city on a regular basis. The Khilgaon flyover and Hatirjheel project have aided in connecting Basabo to other vital areas in an incredible manner. Currently, road developments are taking place in full swing. On the northern side, there is Khilgaon, Rampura and Malibag while the south and south west front faces major areas like Motijheel, Komlapur and Mugda.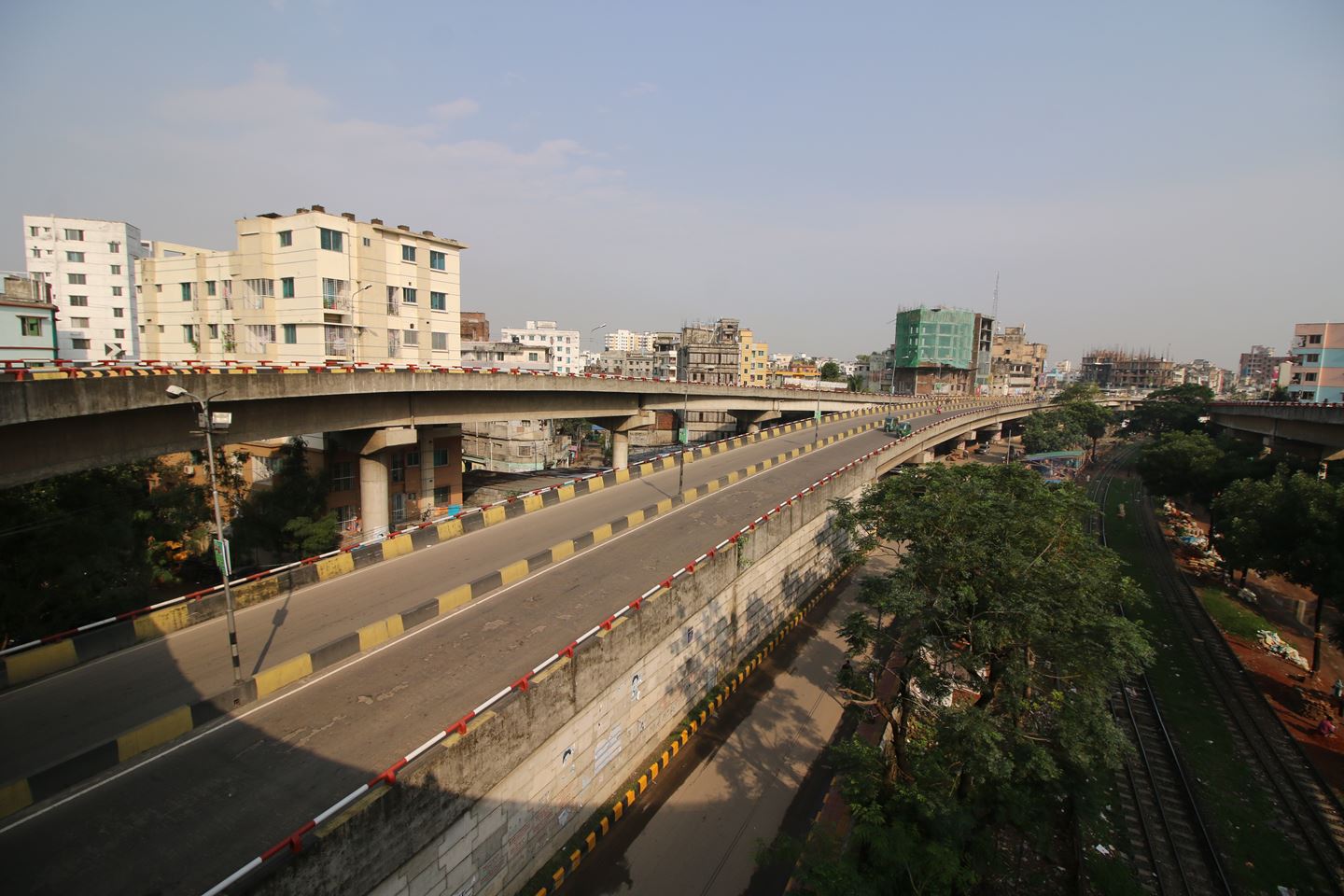 LIFESTYLE
Food & Restaurants
There is a wide array of options when it comes to local restaurants and cafes in Basabo. The fast-food market spiked due to recent developments in Khilgaon. Basabo and its nearby areas are now the ultimate destination for foodies and food bloggers, since the entire locality is cluttered with restaurants of various kinds. Basabo has restaurants like The Sizzle Restaurant, Macher Bari - A Seafood Place, Cafe Marinade, Red Hot Chicken Biriyani and Kebab House, and Kebabwala, which is renowned for serving some of the spiciest food in all of Dhaka. Recently, some food courts have opened branches on the outskirts of Basabo.
Shopping
Basabo is not much known for shopping malls, yet the place has quite a few outlets of well-known brands, like Aarong, Apex, and Le Reve. Apart from those, super shops like Meena Bazar and Swapno are actively serving residents with a hefty supply of necessary food items. Electronic stores like Transcom Digital, Electromart, Best Electronics, and a Sony Rangs showroom are present in every nook and cranny of Basabo. Overall, Basabo holds a bit of everything, which makes it a desirable place for home seekers.