HIGHLIGHTS
About Dakshin Khan
With Gazipur and Tongi in the north, Khilkhet in the south, and Uttara plus the Airport in the west, Dakshin Khan is an area located central to all the aforementioned areas. Just over a decade ago, this area used to be a Union Parishad named Dakshin Khan Adarsha Union. The rapid development of neighboring Uttara saw a rise in development in Dakshin Khan. This resulted in the area being awarded Thana status in 2006. Consequently, the area saw a huge boom in real estate development, which has been ongoing for the past 10 to 15 years. One of the best perks of Dakshin Khan is its fantastic connectivity, as it is connected via road to Abdullahpur, different sectors of Uttara, as well as the Airport. With every passing day, the demand for homes in Dakshin Khan is ever-increasing.
NEIGHBOURHOOD
Community
Dakshin Khan has seen rapid development in recent years. Living costs in the area are very low. This has resulted in a lot of influx of middle income families into the area. Both rent and property prices are reasonable in the area, with great apartments with fantastic amenities available at affordable prices. For grocery shopping, the area has numerous wet markets, where you will find fresh produce. Another thing to note is that the area doesn't have too many high rise apartments, with most houses between 1 to 3 floors. And in such neighborhoods, people tend to have great bonds with their neighbors, creating an overall sense of community and camaraderie in between the inhabitants.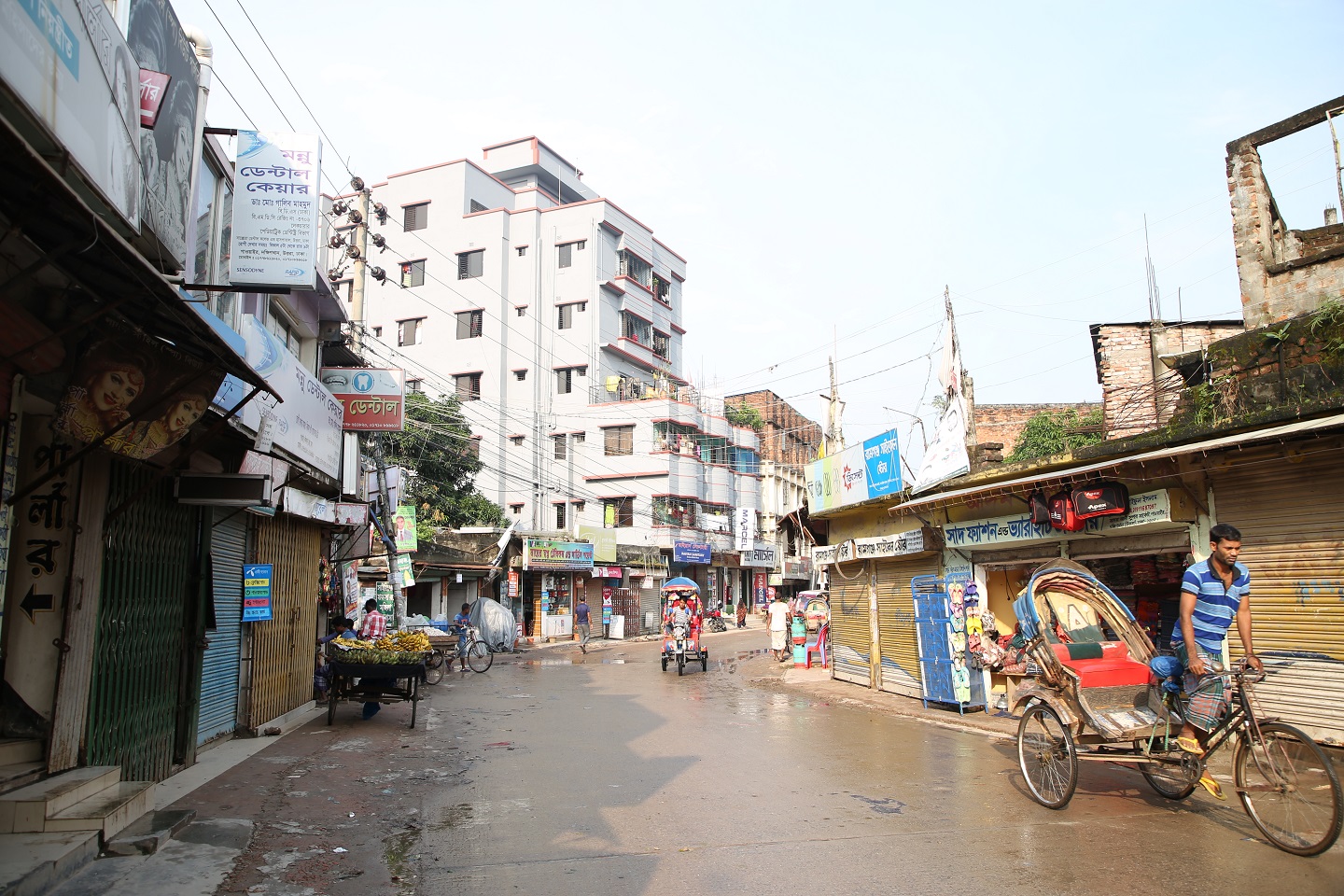 Properties In Dakshin Khan
The area is always lively, with busy streets and a lot of roadside chatter going on. There aren't too many offices in Dakshin Khan, as the area is mostly residential. But the main road features quite a few branches of different banks, including Pubali Bank, Janata Bank, Islami Bank etc. For general shopping, the area has no shortage of stores. Most roads have general stores. Plus, you will find hardware stores, repair shops, and workshops of different types. There is a high demand for property in the neighborhood, with many people on the hunt for properties for sale in Dakshin Khan.
Transportation
One of the major factors of liveability in any area is its transportation network. The areas outside of the bounds of the sectors of Uttara aren't known for having the best maintained roads. But when talking about the availability of transportation, then Dakshin Khan is up there with Uttara. The Airport-Dakshin Khan Road, Shahid Latif Road, Shah Kabir Mazar Road, and the Abdullahpur-Ate Para Road are considered to be the four major roads in Dakshin Khan. One of the best features of Dakshin Khan is how well connected it is with neighboring areas. It's mostly thanks to the major roads mentioned above.
The preferred mode of transportation in the area is via Rickshaw, but the main roads also feature battery powered autorickshaws. Along the Airport-Dakshin Khan Road, you will find these battery powered autorickshaws. Other than that, the area is also very well connected with Uttara and Abdullahpur. Other modes of transportation such as CNG, as well as apps such as Uber and Pathao are also available. And on top of that, there's no shortage of public transportation on the New Airport Road, which is the major road going adjacent to the area.
Educational Institutions
The best educational institutions near to Dakshin Khan are mostly located in Uttara. There are numerous schools in Uttara, including RAJUK Uttara Model College, Uttara High School, Milestone, Scholastica, Aga Khan, etc. There are also many kindergartens and primary schools in Dakshin Khan. Nearby areas such as Ashkona, Faydabad, and Goaltek also has many schools in its vicinity. Dakshin Khan also has many madrasas.
Medical Institutions
For healthcare needs, there are numerous small healthcare facilities and clinics in Dakshin Khan. This includes Ark Hospital and KC Hospital & Diagnostic Center. Other than that, the residents of the area have access to the large hospitals that can be found in Uttara. Dakshin Khan also has numerous pharmacies from where you can buy medicine.
Religious Institutions
Like most other areas in Dhaka, people of different religions reside in Dakshin Khan. Muslim residents will find numerous mosques throughout the different neighborhoods of Dakshin Khan. This includes Chairmanbari Masjid, Hajj Camp Masjid, and many others. There's also the Baitur Rauf Jame Masjid designed by architect Marina Tabassum located just outside the boundaries of Dakshin Khan. People of other faiths will not find places of worship in Dakshin Khan, but nearby areas have numerous temples and churches that can be visited.
Nearby Areas
To the north of Dakshin Khan, you will find the Turag River. Tongi and Gazipur are located on the other side of the river. To the west, there's Uttara and Airport Thana. The east is mostly empty land, after which you will come across Purbachal. Dakshin Khan is mostly connected with the areas on its western side. To the west of Sector 4 and 6 of Uttara, there's the Airport Railway Station, located just beside the busy Dhaka-Mymensingh Highway. This road will lead you to other parts of the city.
LIFESTYLE
Food & Restaurant
Although there are no famous restaurant chains located inside Dakshin Khan, residents will not have to go far to get good food. This is because there are numerous restaurants and street food carts serving delicacies of all sorts. There are many small eating establishments such as CP Foods all around Dakshin Khan. You will also find many stores selling sweets. You will never be short of options when dining inside Dakshin Khan.
Shopping
For most shopping needs, there are numerous general stores scattered throughout the different neighborhoods of Dakshin Khan. Grocery shopping can also be done in the numerous wet markets located inside the area, where you will find fresh produce. The most famous of these markets is the Dakshin Khan Kacha Bazar.